BEFORE Carpet Installation
You've learned all there is to know about carpet, shopped smart, made your best choice, and now it's just a matter of waiting for the installers, right?
Being ready for the installation of your carpet will make the entire process go faster and more efficiently. Knowing what to expect and being prepared will also be a lot less stressful for you, your family, and your home.
Carpet installation is a skill developed through years of experience, so using professional installers is advised.
Before the installation, make sure you have removed all furniture from the room where the flooring will be installed. On the day of installation, make sure you secure your pets and arrange to stay out of the room where the installation is taking place. Our experts will go over any last-minute questions you may have, and then will lay your new flooring.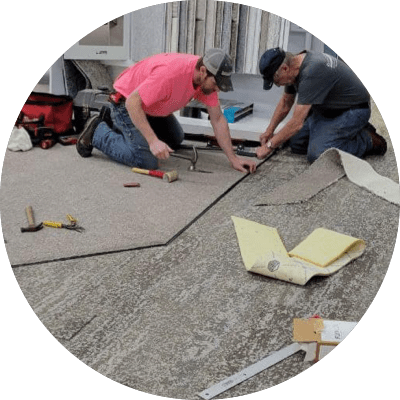 DURING Carpet Installation
We require kids and pets to stay out of the installation area for their safety and the convenience of our installation craftsperson(s). Our team will complete the installation using industry standards while applying best practices. Having your space acclimated at the properly working climate-controlled temperature and relative humidity range is essential. The climate control is to be permanently operating a minimum of 2 weeks before installation, during installation and for the life of the home. Even if you are seasonally not in the space it is required to have climate control in the ranges set by the manufacturer to maintain warranty. Protect your investment by having and keeping your climate controlled.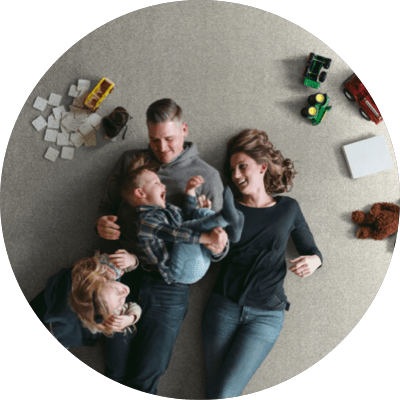 After Carpet Installation
After your carpet installation is complete, it's common for new carpets to shed some loose fibers. This is a natural part of the settling process and should subside with regular vacuuming over time. Let us know if notice and high fibers or see any issues. The Rice's team strives to follow standards. It is important to know we strive to construct and conceal the seam(s) but no seam is invisible. Currently Rice's does not vacuum the carpets after the install to avoid you paying this extra fee to our craftsperson(s). As part of your maintenance plan carpet(s) should be professionally cleaned once every 12 to 18 months. Some high use spaces and commercial applications require a more frequent maintenance plan. Rice's does stock carpet spot cleaners for those everyday accidents. Protect the carpet high traffic areas and pivot points in front of chairs. Enjoy the new carpet smell as it won't hang around too long. Hope you are excited to experience the comfort and beauty your new carpet brings to the space.