LET's get started
Get insights on your upcoming flooring project with a free estimate.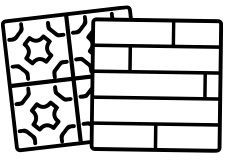 CONTACT
OUR TEAM
Start you Rice's experience today.

In-Store
CONSULTATION
Collaborate with our experts to design your ideal space.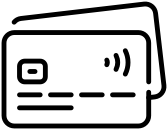 Learn About Financing
Get your dream floors sooner with our financing, subject to credit approval.
Schluter Systems
Floor Warming & Waterproofing
At Rice's More Than Floors, we aim to exceed expectations by listening to your needs to help you bring your dream home to life. That's why we offer Schluter Systems. Schluter®-Systems started from a passion for tile. Schluter is a family-owned Like Rice's More than floors that offers complete interior tile solutions from tile transitions, waterproofing, drains, recessed shelves, in-floor electric heat and much more to warm up those toes in the shower and outside the shower.
In-Floor Electric Heat Under Tile
Enjoy the warmth and coziness by planning electric in floor heat for your bathroom tile project. If you already have a bathroom tile proposal that has the tile, underlayment, sundries and labor and you want to know what it would cost to add in floor heat then use the following info for your budget. To add on electric heat to your bathroom tile proposal budget an additional $1600* to $2300*. If you are also considering adding a separate heating cable to the bath shower, then budget an additional $1100*. Heating both the bathroom floor and shower floor on average will cost $2500* to $3400* for materials and labor.  Prices do include a programable Wi-Fi enabled touch screen thermostat. 12.7 watts per square foot of heated space is the average draw. We would be happy to put together a more precise proposal based off your exact bathroom size and shape.
*These prices are only averages based on project within 30 miles of Rice's, 2024 rates, and we assume the substructure meets or exceeds industry standards for tile and project is ready for install. These budgets are not figuring the final hook up to a single gang box on a dedicated circuit that will need to be completed by licensed electrician. Prices listed are for reference only and are in US dollars. Figure a 2% to 6% increase in above prices every year you wait to do your project. Stop waiting and Email us the drawing today or have us come make a 3D drawing!
BEYOND FLOORING
Transform your space with Rice's More Than Floors solutions. Our team goes beyond flooring, window treatments, and paint, to design advice and 3D layout. Whether you want walk-in shower tiles, in-floor electric heat, or custom area rugs, our experts bring your dream remodel to life with installations exceptional craftsmanship. Trust us to make your vision a reality.
Design advice
We are here to help you create a stylish and functional environment that suits your tastes and needs.
3D layout designs
Bring your vision to life. We will help you see the potential of your bath before any work begins.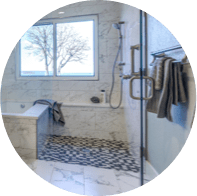 Walk-in tile showers
We can turn your bathroom into a spa-like retreat with stylish and functional tile shower designs.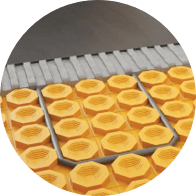 In-floor electric heat
Enjoy the warmth and coziness. Our expert installation ensures an efficient and reliable heating solution for your home.
Expert installation
We ensure your flooring, tile, and other interior enhancements are flawlessly executed for a stunning result.
CUSTOM AREA RUGS
We can create rugs in any size or shape, tailored to your preferences and room dimensions.
LEARN MORE
Bring it to life with Roomvo
VISUALIZE YOUR FLOORS
See your room with your new flooring selection. With Roomvo, it couldn't be easier. Simply upload a photo of your room, choose a flooring product, and instantly bring your idea to life.
WINDOW TREATMENTS
Window treatments play a pivotal role in enhancing the overall look and feel of your home. Beyond providing privacy and light control, they contribute to your interior design. At Rice's More Than Floors, we offer an extensive selection of Hunter Douglas window treatments that not only meet your practical needs but also seamlessly blend with your decor.
Benjamin Moore
PAINT & SUPPLIES
With a commitment to top-quality products, Rice's More Than Floors offers a diverse range of paint, stains, and sundries, all ready to be customized in your preferred shades. Whether it's painting your walls, ceilings, or outdoor staining projects, we have the perfect solution for your needs.
CUSTOM AREA RUGS by RICE'S
With carpet binding, you have the creative freedom to design the look that perfectly suits your style. Whether you want to add a touch of elegance or a pop of color to your space, our binding options give you the flexibility to create the ideal aesthetic for your home. Explore our range of binding choices and craft a floor covering that's uniquely yours.
CLEANING SUPPLIES
We understand the importance of maintaining the beauty and hygiene of your home. That's why we offer a range of cleaning products and supplies to help you keep your floors, windows, and living spaces pristine. Our cleaning supplies are designed to make your cleaning tasks easier and more effective.