Contact our team
Get insights on your upcoming home project with an estimate.

In-Store CONSULTANT
Collaborate with our experts to design your ideal space.
Express Your Style
With a commitment to top-quality products, Rice's More Than Floors offers a diverse range of paint, stains, and sundries, all ready to be customized in your preferred shades. Whether it's painting your walls, ceilings, or outdoor staining projects, we have the perfect solution for your needs. While we currently don't provide painting services, we're happy to connect you with local paint professionals who exclusively use Premium Benjamin Moore products for a flawless finish. Additionally, Rice's More Than Floors offers a wide selection of painting supplies to ensure your project is a smooth and successful experience.
PAINT
You can achieve incredible color precision, exceptional durability, and a luxurious finish with a wide array of Benjamin Moore products. Whether you want to refresh your living spaces or tackle an outdoor project, you can trust Benjamin Moore paint and exterior stain to deliver the perfect blend of beauty and performance.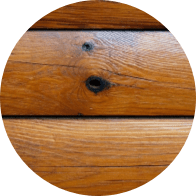 STAIN
PPG Proluxe is renowned for its high-quality wood stain and finishes, designed to enhance and safeguard your wood surfaces. From vibrant wood stains to durable wood finishes, PPG Proluxe offers a range of options to elevate your outdoor spaces with beauty and protection.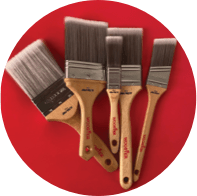 SUNDRIES
As a trusted brand in the painting industry, The Wooster Brush Company offers a wide range of high-quality paint brushes, rollers, and accessories. Whether you are a professional painter or a DIY enthusiast, you can rely on The Wooster Brush Company's innovative and durable painting and exterior stain tools.
Explore Colors
With Benjamin Moore's Color Viewer, you can virtually paint your space, visualize different color combinations, and experiment with various shades before making a decision. Whether you're planning a room makeover or selecting the perfect hue for your next project, Benjamin Moore's Color Viewer provides a seamless and enjoyable way to explore the endless possibilities of color.
ORDERING PAINT
At Rice's More Than Floors, we've streamlined the process of ordering paint, some exterior stain, sundries, and liquid color samples. You have many options to get this order moving forward. One option is to call or stop in here at Rice's and we will guide you through your order. (Soon you will be able to text or email in your order)  The second option if you already know exactly what you need is 95% of our products can be ordered direct from the Benjamin Moore website by clicking here: Benjamin Moore Online Store.  If you use the first option, we'll ensure that your preferred style of paint is in stock, or we can place an order for you as proposed. The Rice's Team will confirm your color and quantity, check for any special painting supplies you may require, verify your pick-up time, and even handle payment over the phone or via text if that's your preference.
When it's time to pick up your paint, exterior stain, and/or sundries, we strive to quickly have it ready in front showroom or seasonally we can accommodate curbside pick-up and assisted loading. With your paint or exterior stain in hand, your project is ready to begin.
HIRING A PAINTER
Although Rice's More Than Floors currently does not do the painting in-house, we do carry Premium Benjamin Moore products for your painter to do the job.