BEFORE Laminate Installation
Proper preparation is essential for a smooth laminate flooring installation day. Our team will provide you with a comprehensive checklist outlining all the necessary details for your scheduled installation day. It's important to have the installation area cleared and prepared in advance, ensuring a smooth and efficient process.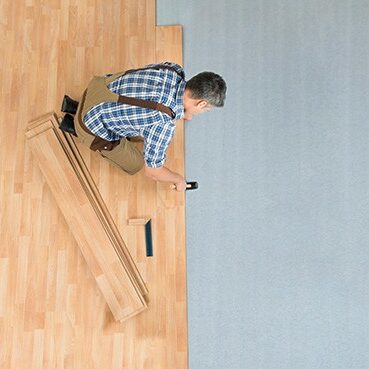 DURING Laminate Installation
We require kids and pets to stay out of the installation area for their safety and the convenience of our installation craftsperson(s). Our team will complete the installation using industry standards while applying best practices. Having your space acclimated at the properly working climate-controlled temperature and relative humidity range is essential. The climate control is to be permanently operating a minimum of 2 weeks before installation, during installation and for the life of the home. Even if you are seasonally not in the space it is required to have climate control in the ranges set by the manufacturer to maintain warranty. Protect your investment by having and keeping your climate controlled.  
After Laminate Installation
While still maintaining climate control throughout the life of the laminate be sure to use the proper care and maintenance supplied from the manufacturer. We do stock most recommended cleaners here at Rice's More Than Floors. Remember most of these laminates are top-down waterproof. Do not flood these floors. The initial couple cleanings may be more intense after the install due to the dust that is disturbed in your space from the removal of your old floors, the dust that was in was on your substrate and some generated from our team. Although we do our best to control dust expect dust in your space and surrounding spaces.